Summer Reading, Imagine Your Story, starts at Pawhuska Public Library on June 15, 2020.
Due to social distancing, a major focus of this year's reading program will be handouts of book n' craft bags, a writing contest, and prizes.
Elementary Reading Program
Each child kindergarten through fifth grade may come to the library Monday June 15 through Friday June 26 and pick up a bag containing a book, a craft and a comic picture page. One book n' craft bag per child, total. Books and crafts in the bags are free for children to keep.
Prizes will be available for writing a story using the picture page included in the bag, or for sending a photo of the craft you make to pawhuska.library@gmail.com. Prizes include coupons from Sonic Corporation and grab bag items. The over-all winning story, and craft photo, will be published in the Pawhuska Journal-Capital.
Teen Summer Reading and Adult Summer Reading
Teens and adults reading at least six books during summer 2020 June 15 – August 15 will get their names in a drawing for a gift certificate from a local Pawhuska business. One teen winner 12 – 17 years old, and one adult winner.
Thank you Sponsors!
Sponsors of Summer Reading are the Oklahoma Department of Libraries, the Institute of Museum and Library Services, and Sonic Corporation.
With people spending more time at home, caregiving can become even more difficult. Oklahoma Healthy Aging Initiative is giving virtual classes for caregivers which may help you stay healthy and active.
This is updated info.
You don't have to sign up. These classes are through Facebook Live.
OHAI will post recordings of the classes on their Facebook. So don't worry if you miss the live class. Look under videos on the left side of the page.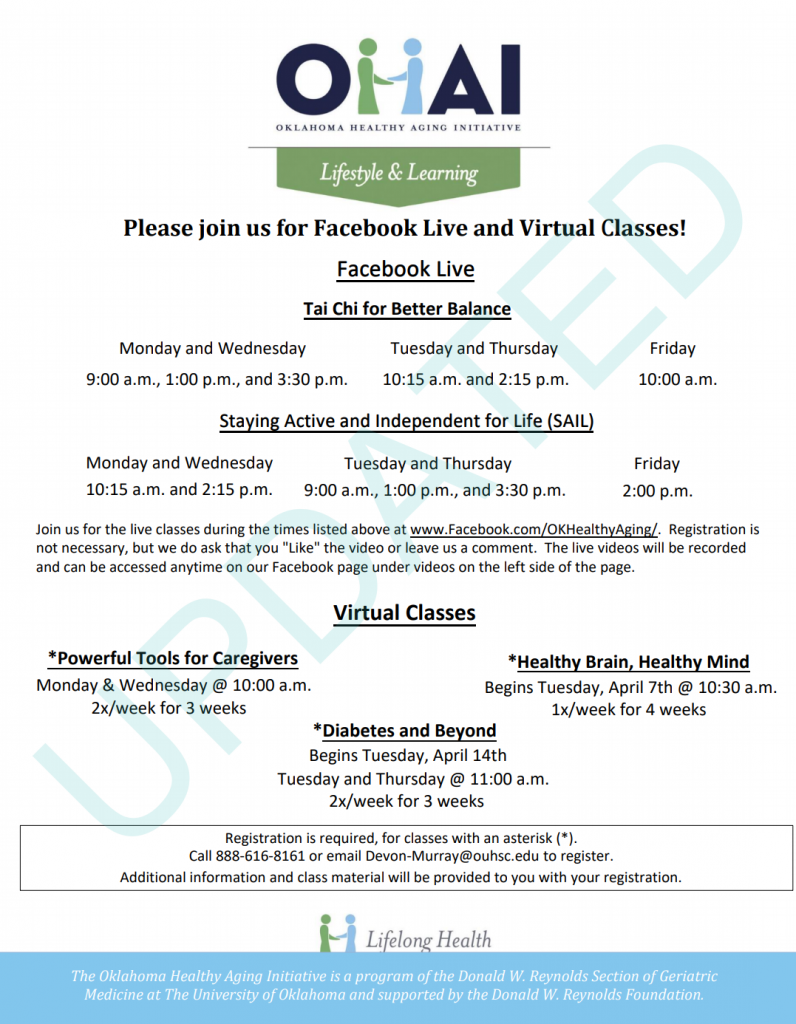 The Pawhuska Public Library is closed at least until April 14, 2020. Due to the fluid public health (corona virus) situation, the close and open dates will be re-evaluated as needed and are subject to change.